You are here
Highlights
Annual Report 2019
2020 has been shaped by a global pandemic, a health emergency with deep socio-economic consequences for Europe and the world. Our member companies have been supporting efforts to tackle COVID-19, ensuring the basic functioning of our economy and are now working to power the recovery. From a private sector perspective, this crisis demonstrates why strong corporate engagement with governments is more critical than ever before. At AmCham EU, we have done our utmost to be a strong voice for American companies who saw their operations strongly impacted by the crisis. Find all of the details about our activities in our 2019 annual report.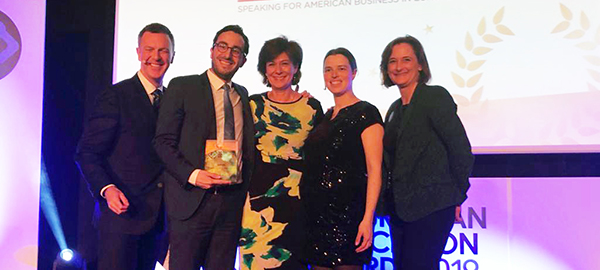 Awards 2019
AmCham EU received the
'Best Association Publication' award at the European Association Awards 2019
for the Transatlantic Economy 2018 report. This edition of the report featured new visuals and infographics, telling the powerful story of the transatlantic economy in a more user-friendly way. The judges said they felt the report 'was a robust and fact-checking instrument, of great value to transatlantic relations. A professional content and approach from AmCham EU!'.