You are here
Digital Single Market the focus of 3rd Annual Transatlantic Digital Economy Conference
The 3rd Annual Transatlantic Digital Economy Conference took place on Wednesday, 2 December 2015 at the AmCham EU offices.
Keynote addresses were delivered by Alexander De Croo, Deputy Prime Minister and Minister for Development Cooperation, Digital Agenda and Telco, Belgium; Andrus Ansip, Vice-President, Responsible for the Digital Single Market, European Commission and Anthony Gardner, Ambassador of the United States of America to the European Union.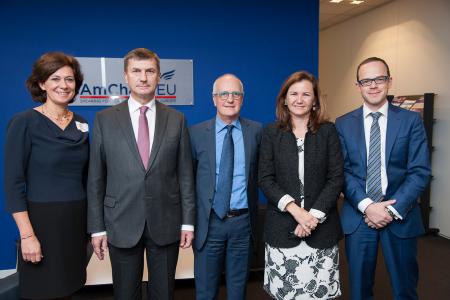 View photos from the conference here.
View our video with Vice-President Ansip here.
Read Vice-President Ansip's speech here.
Read the US Ambassador's speech here.
View our Storify of tweets here.
Two panel discussions were held. The first focused on How to stimulate the global data-driven economy and sought to address the challenges facing it. The panel was moderated by Christoph Luykx, Director, Government Relations, EMEA, CA Technologies and Vice-Chair of the AmCham EU Digital Economy Committee.
Panelists:
Kaja Kallas, Member of the European Parliament (ALDE, EE)
Christian D'Cunha, Policy Assistant, European Data Protection Supervisor
Pearse O'Donohue, Head of Unit, Software & Services, Cloud, DG Connect, European Commission
Anna Pouliou, Executive, Lead Attorney for European Privacy and Data Protection, GE
Cornelia Kutterer, Digital Policy Director, EMEA, Legal & Corporate Affairs, Microsoft
The second panel addressed ways to complete the Digital Single Market with a focus on the elements needed to get there.
Moderated by Pastora Valero, Senior Director, Public Policy and Government Affairs, EMEAR, Cisco Systems Inc. and Chair of the AmCham EU Digital Economy Committee.
Panellists:
Gunnar Hökmark, Member of the European Parliament (EPP, SE)
Kevin O'Brien, Commissioner, Commission for Communications Regulation, Ireland
John Bell, Vice-President, Global Government & Public Affairs, EMEA, First Data
Marc van der Ham, Public Policy & Government Relations, EU, Google