You are here
AmCham EU Strasbourg delegation strengthens ties with MEPs
AmCham EU hosted a delegation of 65 members at the European Parliament's monthly plenary meeting in Strasbourg. From Tuesday, 26 to Wednesday, 27 November 2019, the participants had the opportunity to exchange views with more than 100 MEPs from across the political spectrum of the European Parliament.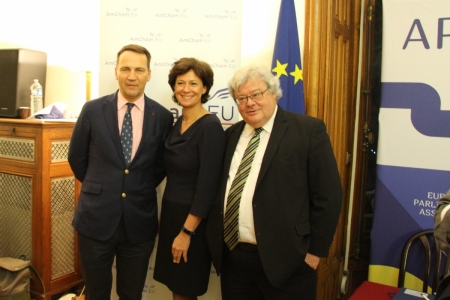 The 'Big Strasbourg' delegation has been bringing representatives of the US business community and members of the European Parliament together for more than 20 years.
This year, the programme comprised a first day that included high-level speeches and a panel with prominent MEPs, a dinner in the evening with MEPs featuring a US CEO keynote speaker; and a second day consisting of a range of streamed, committee-led advocacy meetings.
Klaus Welle, Secretary-General of the European Parliament, opened the delegation delivering a keynote speech on the status and future of the European institutions. He provided insights that, at the crossroads we are today, business and elected officials must work cooperatively to continue to make the European union stronger.
In order to better understand the priorities of the European Parliament on transatlantic relations and issues for the new legislative term, AmCham EU also hosted a panel discussion on the state of the transatlantic partnership. The debate featured Reinhard Bütikofer (Greens/EFA, DE); Margarida Marques (S&D, PT) and Radosław Sikorski (EPP, PL) – the newly elected Chair of the European Parliament Delegation for the relations with the United States of America. The aim of the dialogue was also to remind decision makers that AmCham EU members are dedicated to continuing to make the transatlantic relationship a vehicle for growth and prosperity, both in the EU and the US, even in times of tension.
The delegation marked the release of the AmCham EU's Recommendations to the European Parliament – 2019-2024. This publication comprises key proposals for the new legislature that take into account shared challenges and calls for the EU to demonstrate the ability to take the lead and deliver for European citizens.
In the evening, Jill Wyant, Executive Vice-President and President of Global Regions and Global Healthcare, ECOLAB, spoke to the members and more than 30 MEPs during a dinner in one of Strasbourg's most iconic places, the Maison Kammerzell.
The second day of the delegation was dedicated to committee-led advocacy meetings, ranging from Environment, to Digital Economy, and also Trade. Overall, the meetings confirmed that AmCham EU needs to continue efforts to inform and share a positive narrative with new MEPs to comprehend the concerns of companies in key policy areas.
For more information contact Roberta Brumana, External Relations Adviser (RBR@amchameu.eu).