You are here
AmCham EU Gala 2016 takes place at Concert Noble
The annual AmCham EU Gala took place the evening of Thursday 2 June at the Concert Noble in Brussels. The event kicked off with a welcome reception and remarks by AmCham EU's Susan Danger and Karl Cox, followed by the presentation of the eleventh AmCham EU Transatlantic Business Award.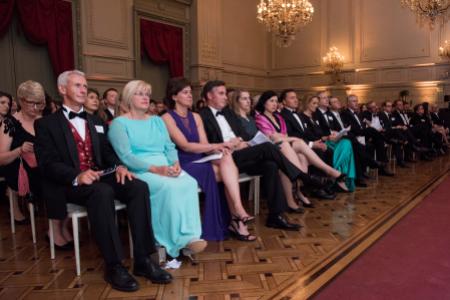 The recipient this year was David McAllister, MEP (EPP, DE). A highlight of the evening included a concert by the laureates of the Queen Elisabeth International Music Competition of Belgium, Piano. Pianists Lukas Vondracek and Henry Kramer performed to the seated audience. Following the concert the KollecTiv Quartet jazz ensemble took to the stage to provide relaxing lounge music for the remainder of the evening.
View photos here.
Watch David McAllister discuss the transatlantic relationship and what winning the award means to him.