You are here
Chatham House Global Trade Conference: AmCham EU CEO offers perspectives on global power dynamics and trade
What is the next phase for the international trading system, in the face of changing geopolitical realities? That was the question put to Susan Danger, CEO, AmCham EU and her fellow panellists Dr Jie Yu, Senior Research Fellow, Chatham House and Fred Hochberg, Former Chairman and President, US Export-Import Bank at the Chatham House Global Trade Conference on Thursday, 29 October 2020. The esteemed panel was moderated by Shawn Donnan, Senior Writer, Bloomberg News.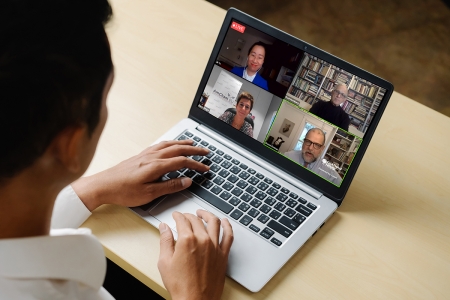 With opening discussions oriented around China, Susan Danger highlighted that the country is too big to ignore. China is Europe's second biggest trade partner after the US. She applauded efforts from both the US and EU to engage China in bilateral talks but highlighted the hardening of attitudes on both sides of the Atlantic. She shared the business perspective that reciprocal market openness is the only way to foster free trade – which is the best-case scenario for business and consumers.
As the topic of the conversation moved to the World Trade Organization (WTO), Susan pointed out that the Organization's central role in the global economy is nothing less than indispensable. Businesses need certainty to be able to invest, take risks, create and innovate. A rules-based, international trade order with the WTO as arbiter is the only way to ensure this certainty for business. However, she called for a modernisation of the institution and called on the US to take a lead role in instigating reforms.
Laying out the way forward for international trade, Susan pointed out that moving away from multilateral trade and towards more managed trade models would have a negative diversionary effect on supply chains. She framed the contextual challenges as an opportunity for the EU to demonstrate leadership and to intensify its cooperation with the US – reminding the audience that ultimately the EU and the US share far more in common than that which divides them.
The final question of the panel asked: what future for globalisation? Susan remarked that the world economy is very highly integrated – so any roll-back of globalisation would be incredibly costly. She insisted that we should aspire for interdependence over independence. For that, we need cooperation. But most of all, we need to tell the story better by making a positive case for free trade.