You are here
Past and present: a recap of our 40th Competition Policy Conference
This year's Annual Competition Policy Conference 'Looking to the past, shaping the future', took place on Thursday, 16 October. The conference focused on the last 40 years of competition policy and what lessons we can take with us to prepare us for the future. Susan Danger, CEO, AmCham EU kicked off the event by underling how strong competition policies are needed to reinforce Europe's place as an attractive environment for businesses to invest. Elsa Sependa, Chair of the Competition Policy Committee, highlighted AmCham EU's role as a facilitator of transatlantic dialogue on competition policy at a moment of great change in regulation. During the event, we heard from Marc van der Woude, President, General Court of the European Union who identified everlasting trends in competition policy discussion and their value to both examinations of its past, and debate around its future.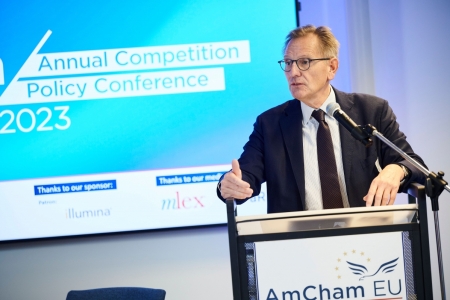 The first panel was a reflection on the last 40 years of competition policy with panellists sharing experiences and anecdotes. They explored the different . roles the US has played in EU competition policy over the decades. Despite highs and lows in the relationship, the speakers made it clear that transatlantic discussion of competition policy was mutually beneficial. During the panel we heard from Maria Coppola, Director, Office of International Affairs, US Federal Trade Commission; Ian Forrester KC, Former Judge, General Court of the European Union and Sir Philip Lowe, Partner, Oxera Consulting. Luc Gyselen, Senior Counsel, Arnold & Porter moderated the panel while also sharing perspectives from his career.
The second panel of the day looked at how competition policy will need to change to stay up to date and fit for modern problems. Moderated by Lewis Crofts, Editor-at-Large, MLex , the panel looked at all sorts of challenges that competition policy will overcome, examining how to balance citizen protections while also reducing barriers for legitimate investment and business. Attendees heard from Anna-Michelle Asimakopoulou, MEP (EPP, EL); Oliver Bethell, Head of Competition, Europe, Middle East and Africa, Google; Antonio Capobianco, Deputy Head, Competition Division, Organisation for Economic Cooperation and Development (OECD); Linsey McCallum, Deputy Director-General, Antitrust and Regulation of Digital Platforms, Directorate-General for Competition, European Commission. Thank you to Elsa Sependa (AT&T) Chair, Competition Policy Committee, AmCham EU for moderating the event, our sponsor Illumina and our media partners PaRR and mLex.