You are here
Executive Vice-President Dombrovskis receives AmCham EU Transatlantic Business Award
The American Chamber of Commerce to the EU (AmCham EU) is delighted to announce that Valdis Dombrovskis, Executive Vice-President for an Economy that Works for People, European Commission, was presented with the AmCham EU Transatlantic Business Award.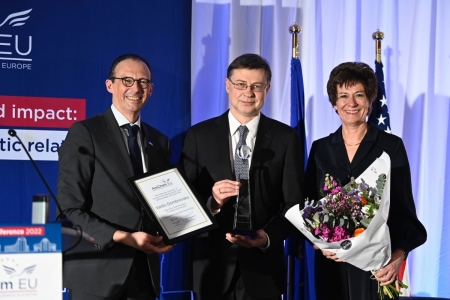 The award formally recognises the Executive Vice-President's exceptional efforts to enhance transatlantic cooperation and strengthen the European economy. He has dedicated his career to making sure that Europe is an attractive place for investment and that economic growth benefits citizens.
Most recently, he has stepped into the role of EU Trade Commissioner, in addition to his already large portfolio. In that capacity, he has skilfully navigated the transition between the two US administrations, at a time when trade tensions were a key feature of the transatlantic relationship.
On the European side, working with colleagues, he has played an important role in building back the trust relationships that are required to advance the EU-US agenda. He has worked relentlessly with his counterparts, including Ambassador Tai and Secretary Raimondo, to resolve two major disputes and launch a forward-looking agenda with the Trade and Technology Council.
Susan Danger, CEO, AmCham EU, said: 'Executive Vice-President Dombrovskis is a staunch supporter of an ambitious EU trade agenda. He has consistently promoted an 'open' approach to trade, one that recognises the importance and the significant contributions of foreign investment to the European economy. He has demonstrated continued leadership in defending transatlantic values.'