You are here
A life sciences strategy fit for the future
Innovation in the field of medicines, medical devices, diagnostic technologies and increasingly digital health has revolutionised healthcare and is transforming the way we deliver treatments and organise healthcare systems.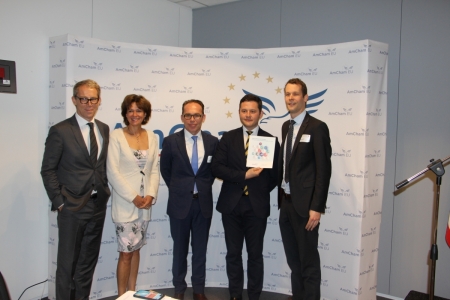 This development presents a chance for fundamentally improving healthcare throughout Europe, but also gives rise to new challenges.
As Europe moves into the new legislative cycle (2019-2024), American business urges the EU to dedicate more attention to unlocking the full potential of the life sciences sector. A first step would be adopting a comprehensive and overarching life sciences strategy. To support this, AmCham EU's Healthcare Committee launched a new report entitled 'Life Sciences for Europe: An integrated strategy for healthcare innovation (2019-2024)' on Tuesday, 11 June 2019.
Maxime Bureau, Chairman, AmCham EU, opened the launch event, stressing the importance of the life sciences sector both for the Single Market and EU citizens. Ludovic Lacaine, the Healthcare Committee's issue lead on life sciences, followed with an introduction to the life sciences sector. The findings of the report were presented by Anthony Barron, Principal, Charles River Associates, one of the authors of the report. In an engaging Q&A discussion, participants highlighted the need for an integrated approach that fosters the wider life sciences sector across the EU.
Commissioned by AmCham EU and conducted independently by Charles River Associates, this report identifies common challenges arising across the life sciences sector on the one hand, and novel policy solutions on the other hand. With two-thirds of the top life sciences companies investing in the EU being US companies, AmCham EU is uniquely qualified to champion the policy solutions identified by the report.
The report and event were sponsored by Abbvie, GE, Lilly, MSD and Pfizer. Other sponsors of the report are Abbott, AstraZeneca, Celgene and Gilead.