You are here
How American companies support the global COVID-19 response
The health crisis we face today is an unprecedented challenge for our society. American companies have taken immediate action to not only protect their employees, support communities in Europe, and around the world, but also to develop innovative solutions to address the global emergency. At the same time, AmCham EU member companies are striving to preserve business continuity in a safe and responsible manner.
Take a look at some of their stories.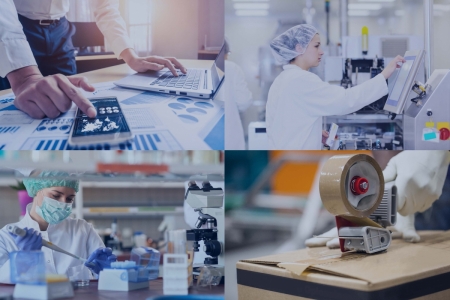 Healthcare companies are using their expertise to develop COVID-19 vaccine candidates as well as medicines that can be used in prevention and management of serious consequences related to COVID-19. Many of them have also significantly increased their production of medicines, medical devices and personal protective equipment.
Additional resources for supporting health workers in the front lines are also contributed by companies that have not traditionally been active in the healthcare sector. Many have found creative ways of contributing their skills and infrastructures, by re-purposing their facilities and technologies. For example, companies with 3D printing technologies have begun to produce face shields; producers of spirits, perfumes and cosmetics are contributing to the production of hand sanitiser; transport companies are utilising their aircraft and vehicle fleets to transport equipment to areas in need. New technological solutions to track, map and use computing capabilities are continuously developed to support communities, researchers and governments to address and better understand some of the impacts of COVID-19.
Finally, to support global relief efforts companies have pledged to support the United Nations COVID-19 Solidarity Response Fund, and other similar initiatives, created to address communities in need and the requirements of healthcare workers on the frontlines. Companies are also creating grants and programmes to assist small businesses likely to be impacted most in this crisis.
Tackling this global pandemic, and its health and socio-economic effects, requires strong cooperation between government, business and civil society. We all have a role to play. Find out more from our COVID-19 portal.