You are here
EU elections events in Paris and Warsaw facilitate debate on key issues
After a very successful first EU elections debate last September in Brussels, AmCham EU, in partnership with Euractiv, organised two debates in Paris and Warsaw ahead of the European Parliament elections in May 2019. At a decisive moment for the future of Europe, it is important to foster debate about key issues not only in Brussels but across Europe.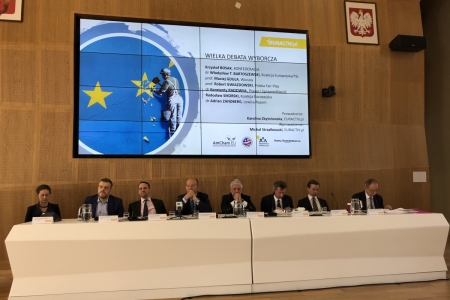 On Wednesday, 10 April, a debate in Paris held at the Chambre Agriculture France welcomed eight candidates bringing a range of views on key issues.
On Tuesday, 16 April, a debate in Poland, held at the Warsaw University Library welcomed seven candidates from across the political spectrum. The event was supported by AmCham Poland, the leading voice for international investors in Poland, also a member of the AmChams in Europe network.
With a presence in Europe for over 100 years and supporting more than 4.7 million jobs across the continent, American companies are an integral part of the fabric of European communities, innovation and growth. AmCham EU's Agenda for Action 2019-2024 outlines four areas where we believe Europe can move forward, together. With sustained focus, Europe can remain one of the most attractive regions in the world to do business, but also one of the best places to live, study, work and raise a family.