You are here
Catching up with European AmChams at the Brussels Briefing
On Tuesday, 21 March, AmCham EU hosted its annual Brussels Briefing with 25 representatives from 15 AmChams in Europe in attendance. The Brussels Briefing is an approach to inform colleagues about the latest developments in EU policy, to exchange advocacy best practices and to network. This year's programme began with advocacy workshops focusing on digital and healthcare issues. The day also saw sessions on transatlantic cooperation, EMPOWER HER, the attractiveness of Europe and an inside look at the stories driving the agenda in Brussels.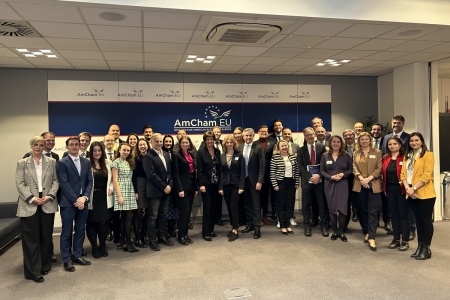 Speakers at the Brussels Briefing included: Jamil Anderlini, Editor-in-Chief, Politico Europe; Greg Burton, Minister Counsellor for Economic Affairs, US Mission to the EU; Andrea Chiarello (Pfizer), Chair, Healthcare Committee; Roger Coelho, Senior Policy Director, AmCham EU; Susan Danger, CEO, AmCham EU; Chris Delaney, Chair, Executive Council, AmCham EU and President EMEA, Goodyear; Philippe Ducom, Vice-Chair, Executive Council and President, Exxon Mobil Europe; Dan Froats, Economic Counselor, U.S. Mission to the EU; Nataša Hemon, Senior Policy Adviser, AmCham EU; Michael Lally, Minister Counsellor for Commercial Affairs, US Mission to the EU; Lucia López Carasa, Policy Adviser, AmCham EU; Thibaut L'Ortye, Public Affairs Director, AmCham EU; Jean-Marc Leclerc (IBM), Chair, Digital Economy Committee; Stefano Marmo, Senior Policy Manager, AmCham EU; Joseph Quinlan, Senior Fellow, Transatlantic Leadership Network; Norbert Rebow, Policy Adviser, AmCham EU; and Zeger Vercouteren (J&J), Chair, AmCham EU.
AmChams in Europe serves as the umbrella organization for 46 American Chambers of Commerce (AmChams) from 44 countries throughout Europe and Eurasia.