You are here
Belgian start-up SAANA wins AmCham EU Youth Entrepreneurship Award 2020
The American Chamber of Commerce to the European Union (AmCham EU) and Junior Achievement Europe (JA Europe) are delighted to announce that SAANA, a Belgian start-up, is the winner of the eighth AmCham EU Youth Entrepreneurship Award.
Saana is made up of a team of cutting-edge researchers and experts who designed a unique personalised nutrition platform based on the latest science and a machine learning algorithm to enhance cancer patients' continuum of care and chances of remission.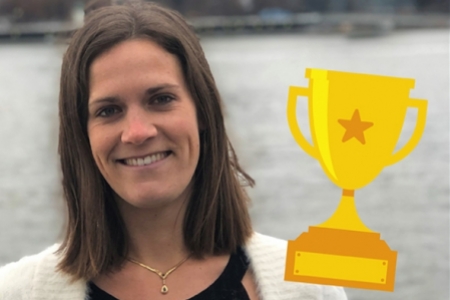 Stéphanie Roland, the founder and CEO of Saana, is passionate about the cause following the loss of her mother to cancer at a young age. Saana aims to fight back now and raise awareness around the impact of nutrition on remission. Today, up to 80% of cancer patients suffer from unaddressed and undiagnosed malnutrition, which endangers their quality of life, treatment follow-up and chances of remission. Saana aims to improve cancer patients' quality of life through actionable, tangible and personalised diet interventions.
The international jury was composed of Claude Alber, Vice-President, Europe, Collins Aerospace a Raytheon Technologies company; Susan Danger, CEO, AmCham EU; Anna-Michelle Assimakopoulou, Member of the European Parliament from Greece, Luciana Broggi, SVP and Global Head of Channel strategy and Global accounts, HP Inc; Mark Libby, Deputy Chief of Mission, United States Mission to the EU; and Lou Rivieccio, President, UPS Europe. They also wanted to send a signal to young people to get engaged in this crucial sector for the EU and the world.
The AmCham EU Youth Entrepreneurship Award, organised in collaboration with JA Europe, aims to encourage and support the entrepreneurial mindsets of young Europeans. The winner received a cash prize of €10,000 and will be offered several hours of mentorship over a 12-month period from a number of senior executives from AmCham EU's member companies who will offer their time, expertise and advice. The other four finalists included Adventures with Amara from the United Kingdom, Canaree from Denmark, Celuna (TimeNinja) from Malta and WakiVaky from Slovakia.