You are here
2020 Lizanne Scott Staff Excellence Award winners
On Thursday, 25 June, during our virtual Annual General Meeting, we presented the 2020 Lizanne Scott Staff Excellence Award to Roberta Brumana, Senior External Relations Adviser and Wendy Lopes, Senior Graphic Design Specialist.
The Lizanne Scott Staff Excellence Award recognises outstanding work by members of the AmCham EU staff and is given annually to one or two members of the secretariat. Roberta and Wendy's dedication, professionalism and can-do spirit have been recognised and appreciated by staff and members alike. Congratulations to both winners!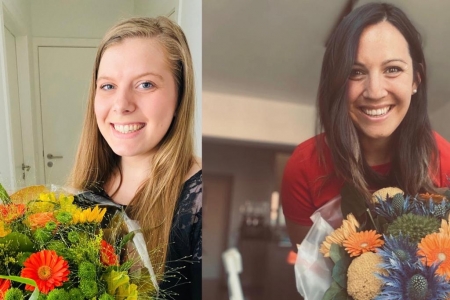 Initiated in 2006 and renamed the Lizanne Scott Staff Excellence Award in 2012, the award recognises the outstanding work done by AmCham EU staff in the preceding 12-month period. The prize consists of a certificate of excellence and a monetary award.
The winners are selected based on:
their ability to employ diligence, creativity and drive in pursuing AmCham EU's goals;
having realised a project recognised as an exceptionally valuable contribution by an AmCham EU group;
used new, unique or outstanding means to achieve a project; and
exact attention to detail and quality.
The one or two members of staff should ideally (but not necessarily) be from different Secretariat functions (Operations, Market Engagement, Policy).