You are here
TTIP: Landing the right deal
On 12 May, AmCham EU and The European Chemical Industry Council (Cefic) hosted a joint event on The Transatlantic Trade and Investment Partnership (TTIP).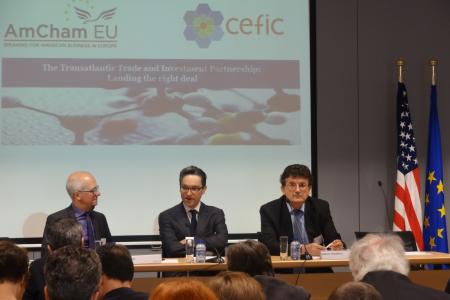 The event began with introductory remarks from Karl Cox, AmCham EU Chair and Hubert Mandery, Cefic Director General, on the importance of TTIP to the EU and to the transatlantic economy. Hiddo Houben, EU trade negotiator and European Commission official, then presented an update on the state of play in the TTIP negotiations including progress at the ninth negotiating round which took place in New York in April 2015.
Mr Houben stated that the negotiations were progressing and are about half-way through – the EU and the US now have consolidated texts for 12 chapters, with the aim for an eventual 25 chapters in the final text. Two panels were subsequently held on the key issues of regulatory cooperation and energy in TTIP. Panellists included representatives from government and industry throughout Europe. A diverse audience comprising of stakeholders of all levels were able to engage in an excellent debate on two key issues for EU and US citizens. The event concluded with a networking lunch, where participants were able to discuss further with each other their views on TTIP and the transatlantic economy.