You are here
Top three finalists named for Youth Entrepreneurship Award 2019
AmCham EU and Junior Achievement Europe (JA Europe) are delighted to announce the three finalists of the 2019 Youth Entrepreneurship Award. The Youth Entrepreneurship Award, now in its seventh edition, aims to recognise young people who have chosen to become entrepreneurs, and aims to foster entrepreneurship in Europe.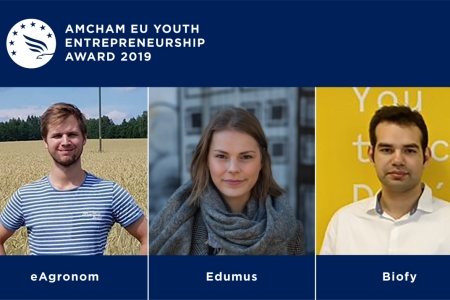 This year's finalists include:
eAgronom
Entrepreneur: Robin Saluoks
Country of origin: Estonia
eAgronom is an AgTech start-up founded by farmers, financed by farmers and developed via farmer feedback. It was started by a JA alumnus who didn't find suitable software for his father's farm. He learned how to code and made a first version himself. Today, hundreds of farmers use eAgronom in 7 countries and trust the company with its data organisation and AI suggestions.
-
Edumus
Entrepreneur: Maria Rahamägi
Country of origin: Estonia
Edumus helps working professionals to go back to school and teach one grade, one subject at a time. Made for working professionals, Edumus is a self-development program to learn and practice leadership and training skills. In a time of continued shortage of teachers in Europe, Edumus offers a complementary approach, which is less demanding for teachers and can become a catalyst for positive change.
-
Biofy
Entrepreneur: Fernando Matias Casale
Country of origin: Spain
Biofy designs and sells modular plants that turn landfill bound plastic waste into low-sulphur fuel, which can be directly used in machinery or blast furnaces or refined into more conventional fuels. The price is lower and more stable than the one that comes directly from petrol, thanks to their local production.
The winner will be named on Wednesday, 2 October 2019.