You are here
Strategies to fight unconscious bias
On Thursday, 12 September AmCham EU hosted a Gender Initiatives breakfast on strategies to fight unconscious bias. Studies show that nearly 40% of people have unconscious biases against particular genders and ethnicities (Cornish and Jones, 2011). These biases can hinder progress on diversity and inclusion within both the public and private sector. This breakfast event sought to explore unconscious bias from various perspectives and identify strategies to address it.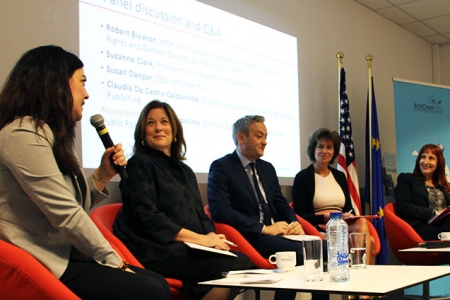 Discussions focused on how we, as human beings, are inherently biased and it is only when we recognise this within ourselves that we can adequately address the issue. From a young age, gender stereotypes at home and at school can perpetuate bias that affects our goals and career choices as well as our expectations of others in the workplace. Furthermore, as artificial intelligence and machine-learning become more central to our everyday lives, speakers also identified a real risk of disseminating such biases to machines.
Throughout the discussion, AmCham EU members UPS, Chevron, P&G and Baxter showcased real examples of how they implemented strategies in order to tackle unconscious bias in their companies.
Speakers agreed that while progress is being made, there is still a lot to do to overcome the negative consequences of unconscious biases in the workplace. However, companies can implement organisation-wide initiatives in order to combat them, such as trainings for both male and female employees and the use of gender-neutral language in job advertisements.
Speakers included:
Suzanne Clark, President, U.S. Chamber of Commerce
Robert Biedroń, MEP and Vice-Chair of the Committee on Women's Rights and Gender Equality, European Parliament
Susan Danger, CEO, American Chamber of Commerce to the EU
Claudia De Castro Caldeirinha, Founder and Executive Director, Redscope Publishing
The event was moderated by Aliki Foinikopoulou, Director, EU Government Affairs and Public Policy, Salesforce
See the photo highlights here.