You are here
September Plenary: Ensuring Europe's Artificial Intelligence competitiveness
On Tuesday, 24 September 2019, AmCham EU hosted a digital-themed plenary meeting, which explored how to best ensure Europe's artificial intelligence (AI) competitiveness, and to attract investment and promote innovation. The keynote address was given by Roberto Viola, Director-General, DG CONNECT, European Commission.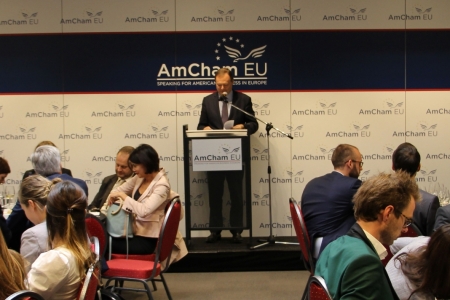 The event featured a panel to discuss and build on the second deliverable of the European Commission High-Level Expert Group (HLEG) on AI 'Policy and investment recommendations for trustworthy AI' (published in June 2019). The panelists discussed ways for Europe to be a key international player in AI while addressing possible risks linked to the use of the technology. The panel was composed of Dita Charanzovà, MEP, Vice-President of the European Parliament, Andrea Renda, Senior Research Fellow and Head of Global Governance, Regulation, Innovation & Digital Economy, CEPS, Pascal Rogard, Attaché, Telecommunications and Information Society, Permanent Representation of France to the EU, Joan Van Loon, Belux Enterprise Business Unit Leader Public, Life Sciences, Telco & Utilities, IBM Belgique-Luxembourg, and was moderated by Claudia Selli, Member-at-Large, AmCham EU Board and Chair of the AmCham EU Digital Economy Committee (AT&T).
Participants discussed various aspects of the expert group's deliverables and the importance of ethical AI and data responsibility. Other key aspects concerned the recent announcements by President-elect Von der Leyen that a key goal for the EU is to set a world-standard for AI regulation in the Commission's first 100 days. This proved fruitful as well as the debate on the future impacts of AI, its benefits and challenges, preparing the workforce and AI as a key component of a sustainable digital future.
Following the panel was a luncheon with a keynote address by Roberto Viola, Director-General, DG CONNECT, European Commission. Mr Viola delivered thoughtful and personal remarks, including his take on AI, the EU's achievements in digital policies and the importance of continued transatlantic cooperation. Key themes echoed many of those discussed in the panel, but also included the importance of an aligned and strengthened EU-US relationship, and using emerging technologies such as AI to support sustainable initiatives in agriculture, climate, healthcare and for the betterment of the general public. Mr Viola also emphasised that these issues will remain at the forefront of the new Commission's agenda.
For any questions, please contact Edward Haynes, Policy Adviser (EHA@amchameu.eu).