You are here
Promoting inclusive leadership in the EU
On Wednesday, 10 July AmCham EU hosted a Gender Initiatives breakfast on promoting inclusive leadership in the EU. The event sought to highlight the benefits of building more diverse and inclusive leadership across business and policy-making in the EU.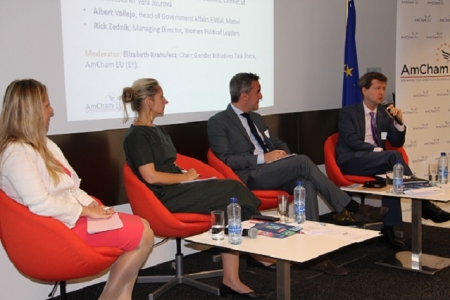 While data shows that much work must be done to achieve equality, speakers positively assessed the work of the European Commission in raising awareness about gender equality in many EU policy areas, for instance through the recent work-life balance package.
Panellists also agreed that real progress on inclusive leadership is within our reach but that we need political willingness to drive change forward. In this context, engaging men – not just women – to support diversity and inclusion is critical. At the same time, changing leadership models also requires more systemic changes, starting from early education, for instance by providing more role models to young girls and boys and encouraging girls to pursue STEM studies.
Overall, speakers agreed on the importance of promoting inclusive leadership as a way to achieve better policy outcomes and real economic benefits. AmCham EU continues to be committed to promoting inclusive leadership and helping EU institutions engage with the business community to create a more diverse and inclusive workforce.
Speakers included:
Monika Ladmanová, Advisor on Gender Equality, Cabinet of Commissioner Vera Jourová
Albert Vallejo, Head of Government Affairs EMEA, Mattel
Rick Zednik, Managing Director, Women Political Leaders
The event was moderated by by Elizabeth Krahulecz, Chair, Gender Initiatives Task Force, AmCham EU (EY).
See the photo highlights here.
Read our Agenda for Action 2019-2024.