You are here
The passing of Roderick 'Rory' Macmillan
It is with the utmost sadness that we announce the sudden death of Roderick 'Rory' Macmillan. Rory was a valued member of AmCham EU for more than 20 years. He was also well known and highly respected in wider Brussels EU circles. Importantly, he was a dear friend and colleague to many of us and he will be sorely missed. Many of our lives have been enriched by his friendship and supported by his professional dedication.
A private service will take place in line with current UK government COVID restrictions. A fitting memorial service to celebrate Rory's life will take place at a future date to be finalised. Those who would have liked to attend, but due to the current restrictions cannot, are invited to make a donation. Instead of flowers, you are kindly invited to make a donation to one of Rory's favourite charities as listed here:
World Child Cancer
and the
Belgium Alzheimer Association
.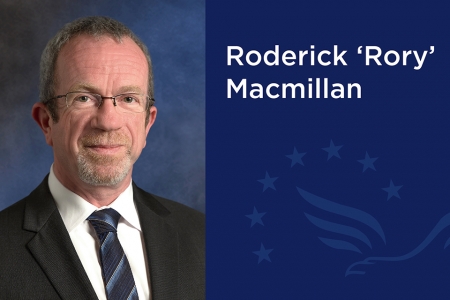 Rory joined AmCham EU in 1998 and was firstly engaged in the Financial Services committee and later, when he joined Nike, he became even more active in the organization. His roles at AmCham EU included Member-at-Large of Policy Group, Vice-Chair of the Trade Committee and Chair of the Presidency Group, where he lead numerous high-level delegations to Member State capitals with groups of senior members. Rory left Brussels for London in 2011 when he joined The Carlyle Group becoming Managing Director, but he stayed a loyal, active and supportive member of AmCham EU until the present time. Before joining Nike he also worked at Cosmetics Europe and L'Oreal. He was also an active member of other associations in Brussels.
We are very appreciative of Rory's collegiality and commitment over the years as well as his friendship, sparkling sense of humour and his true kindness. On behalf of the staff, members and Board of AmCham EU, both past and present, we would like to extend our deepest condolences to his husband Koenraad and to his extensive family and loved ones around the world.