You are here
Media engagement: defence, digital, environment, strategic autonomy and trade
Outreach to both generalist and technical press is one of the advocacy tools we use to give visibility to our policy positions and influence the public debate.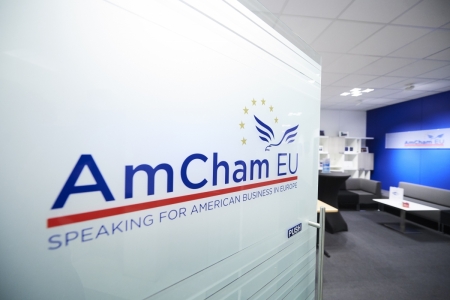 Last week, AmCham EU CEO Susan Danger sat down with Borderlex for a wide-ranging interview covering key issues driving the transatlantic agenda – artificial intelligence, climate change, data transfers, regulatory cooperation, trade and WTO reform.
Recently, AmCham EU's views were featured in the press on a range of policy issues – thanks also to the contributions of members who acted as spokespersons for the association: digital (Bloomberg story here), US election (POLITICO), strategic autonomy (POLITICO mention here), sustainable chemicals (Chemical Watch stories here and here), third-country access to defence programmes (EURACTIV story here) and trade (Financial Times newsletter here).
Finally, the Competition Policy Conference was organised in collaboration with two key media partners in the field of competition: MLex and PaRR. Fifteen journalists from leading international news organisations were accredited to cover the event. The conference led to a story from wire-service Reuters.
For more information on our media engagement, please contact Thibaut L'Ortye, Associate Director of Public Affairs (TLO@amchameu.eu).