You are here
Martin Selmayr talks Future of Europe at Annual General Meeting 2019
On Tuesday, 25 June AmCham EU held its Annual General Meeting, where members reviewed last year's accomplishments and discussed future plans for the organisation in 2019 and beyond.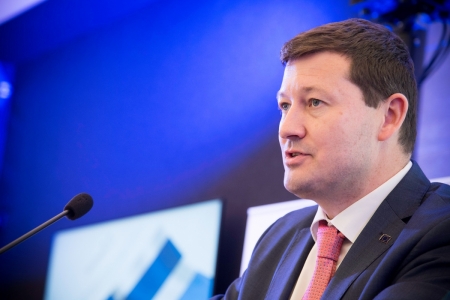 Martin Selmayr, Secretary-General, European Commission gave dynamic keynote remarks on the EU's place in the world, its current relationship with the United States and what to expect in the new European mandate.
The AGM also included reporting and voting on the annual accounts and budgets for 2018 and 2019 and a presentation from FTI Consulting on AmCham EU's position in the EU policy landscape. Changes to the AmCham EU Board were also announced, with Leah Charpentier (First Solar) elected as Chair of Communications and Marketing Group and Claudia Selli (AT&T) as Member-at-Large (US corporate). We would like to thank both departing Board members Melanie Faithfull Kent (Hill+Knowlton Strategies) and Zeger Vercouteren (Johnson & Johnson) for their hard work and dedication over the years.
The internal session closed with the presentation of the 2019 Lizanne Scott Staff Excellence Award, which was awarded to Stefano Marmo, Associate Policy Manager. The Lizanne Scott Staff Excellence Award recognises outstanding work by members of the AmCham EU staff. Carine Pauly, Senior IT and Senior Data and Information Systems Specialist, was also recognised for her 20 years of service at AmCham EU.
Following the members-only internal session, AmCham EU hosted a reception featuring a discussion with Mark Libby, Deputy Chief of Mission, US Mission to the EU, and closed with a farewell to John Breidenstine, Minister Counselor for Commercial Affairs & Senior Commercial Officer for Europe, US Mission to the EU. AmCham EU would like to sincerely thank John and his staff for their support for the transatlantic relationship and the US business community in Europe. We wish John all the best and look forward to continuing the positive working relationship with the US Mission to the EU going forward.