You are here
An integrated strategy for Life Sciences in Europe
The event was opened by
Susan Danger
, CEO, AmCham EU. She spoke about the importance of the life sciences sector and its role in
Europe's economic recovery
.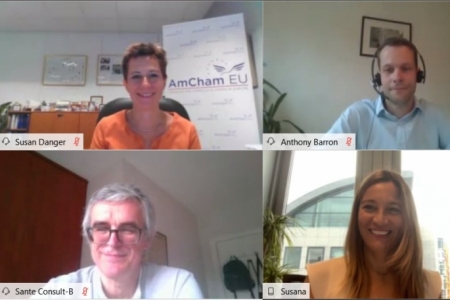 Before launching the panel into a discussion, the moderator, Philip Schwab (Abbvie), Issue lead on the life sciences for Europe report, AmCham EU asked the author of the report, Anthony Barron, Principal in the Life Sciences Practice, Charles River Associates to present his findings, taking into account the new challenges posed by the COVID-19 pandemic.
The panellists, Andrzej Rys, Director responsible for Health systems, medical products and innovation, DG SANTE, European Commission and Susana Solis Peres, MEP (Renew Europe, ES), European Parliament talked about the importance of reliable supply chains in Europe, investment in innovation and the digitalisation of healthcare.
The speakers agreed that Europe cannot repeat the mistakes made during the previous economic crisis and that the well-being of citizens should remain at the centre of all policy making. The horizontal and integrated approach to life sciences technologies championed by the report was recognised as needed in Europe's effort to sustainably improve its healthcare systems.