You are here
Innovative business solutions bolster development of the circular economy
While 2017 was a key year for the circular economy agenda in the EU, 2018 has definitely kept up, if not proven to be even more crucial.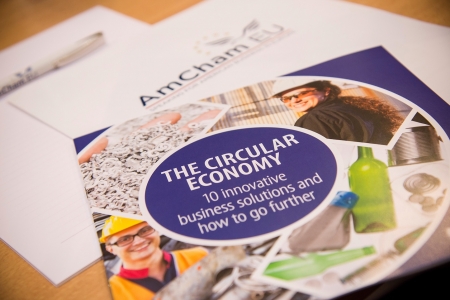 Not only was the Plastics Strategy released in January of this year, but the interface between waste, chemicals and products legislation has moved into action and the Waste Framework Directive review is expected to be finalised soon. This week, on Tuesday, 20 February, the second Circular Economy Stakeholder Conference will take place.
As the EU moves toward a circular economy, AmCham EU's publication 'The Circular Economy – 10 innovative business solutions and how to go further' is more relevant than ever. The 10 case studies cover a broad spectrum of solutions already in action- from plastics to aircraft engines, from fuels to tires. In each example, the rationale is similar: by sourcing materials responsibly and seeking greater resource efficiency throughout a product's life cycle, business can not only protect the environment but also create value for both business and customers while generating jobs. Each case is paired with ideas on how to go further, offering practical tips to policy-makers on concrete steps toward a circular economy.
AmCham EU continues to advocate for sector and product-specific legislation to be applied for a swift transition to the circular economy. These case studies convey industry commitment and also foster open dialogue with business on the policies needed for a prosperous and competitive Europe.
Going forward, business and government must work together to develop policies encouraging sustainability, innovation and economic growth.
By Florian Gleissner, Policy Adviser (FGL@amchameu.eu).