You are here
Improving access and financing in healthcare in Central and Eastern Europe
On Wednesday, 10 April AmCham EU's Healthcare Committee hosted the second instalment of its breakfast event series. The roundtable discussion focused on the access and financing of healthcare systems in Central and Eastern European countries (CEE).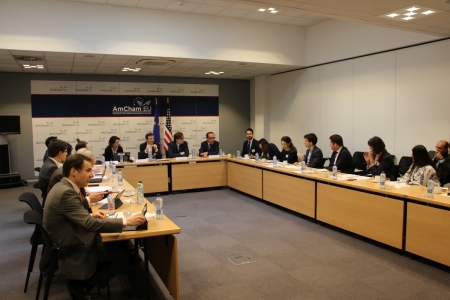 The event was moderated by Alexander Roediger, Chair of AmCham EU's Healthcare committee, who pointed to the advances in cancer survival thanks to progress in healthcare, including prevention, diagnosis, and treatment. At the same time, he underlined the significant gaps in health outcomes and access between EU countries. How to reduce these inequalities, and the role of industry in doing so was the key theme of the discussion.
The discussion was opened by Anca Maria Bundoi, Governmental Affairs Director for CEE, Johnson & Johnson, who presented a project of the Local American Working Group (LAWG) in Romania that was based on best practices identified in other EU countries in a recent Economist Intelligence Unit (EIU) report on 'Learning from Europe: The options for health and medicines financing in Romania' commissioned by the LAWG.
Other speakers included Dirk Van den Steen, Policy Officer, DG SANTE, European Commission and Stefan Gijssel, Executive Director, Digestive Cancers Europe, who presented the European Commission and patient's perspective on the matter. The discussion centred on the persisting shortcomings in CEE healthcare systems, particularly the failure to provide timely and affordable access for patients.
Where the need for investment in medical infrastructure meets tight public budgets, innovative solutions and public-private partnerships can play an important role in improving the status quo. All speakers emphasised that cross-stakeholder cooperation is key in creating a successful healthcare system. Suggestions included the widespread adoption of cancer screenings, outcome-based reimbursement, electronic patient registries, improving patient mobility and accessibility of healthcare, lowering out-of-pocket-expenses through complementary top-up insurance schemes, and decreasing inefficiencies in hospital care by increasing transparency.
The private sector can play a positive role: speakers underlined that many of the suggested initiatives would greatly benefit from area-specific industry-government cooperation as well as pre-competitive intra-industry cooperation to facilitate innovation.
The next session of the early-bird breakfast series is set to take place in June and will focus on Life Sciences in Europe.