You are here
Gender Initiatives breakfast explores ways to increase diversity in STEM
Women are underrepresented in STEM, despite the high demand for professionals in these fields and the economic benefits that gender equality would bring.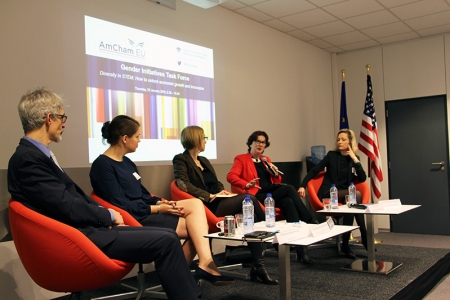 On Thursday, 25 January, the Gender Initiatives Task Force organised a fifth edition of its breakfast series to look at ways to address this lack of diversity in STEM.
Stephane Berghmans, Vice-President of Global Academic and Research Relations at Elsevier, set the scene by sharing key findings on the role of gender in the world of research presented in Elsevier's report. Although the proportion of female researchers is increasing, scholarship in engineering continues to be dominated by men.
The shortage of women in STEM careers can be explained by a number of factors, including less encouragement to pursue math and sciences from an early age; a lack of education or exposure about potential careers in this field; and entrenched gender stereotypes and unconscious bias, among other factors. Positive role models and greater exposure to science and new technologies are pivotal for girls to pursue and thrive in a STEM career. At the event, business and government representatives spoke about their work to increase women and diversity in STEM, including programmes focused on education, job shadowing and mentorship programmes. Improving STEM education and skills across Europe are thus an important point for business, EU policy-makers and Member States to consider.
Speakers
Tineke Bakker-van der Veen, Managing Director Boeing Benelux & Nordics, Boeing International
Stephane Berghmans, Vice-President Academic Relations for the EU, Elsevier
Marie-Benoîte Chesnais, Senior Consultant Presales, CA Technologies
Patricia Reilly, Deputy Head of Cabinet, European Commission
Moderated by
Beatrice Flammini, Vice-President of European Affairs, Head of Brussels Office, Liberty Global and Chair of the Gender Initiatives Task Force, AmCham EU