You are here
Finalists selected for the AmCham EU Youth Entrepreneurship Award 2020
AmCham EU and Junior Achievement Europe (JA Europe) are delighted to announce the finalists of the 2020
Youth Entrepreneurship Award
. Candidates from across Europe were in the running for the award after participating in a JA Europe programme, making it past the initial start-up phase and creating a business concept that showed potential. The theme this year focused on female entrepreneurship.
The shortlisted start-ups pitched their companies to a high-level jury panel during an online finale on Thursday, 11 June.
The five outstanding finalists are Kirija Kandiah, Sara Green Brodersen, Cécilia Mzayek, Stéphanie Roland and Dominika Podolanová.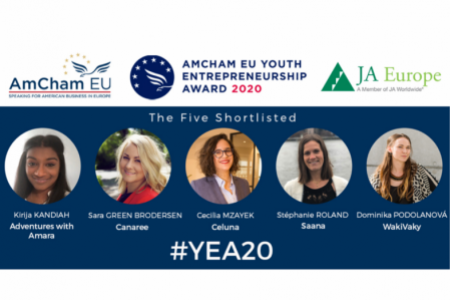 Entrepreneur: Kirija Kandiah
Country of origin: United Kingdom
Adventures with Amara - is a collection of children's books which explain complex social issues in a simple way with added digital elements. They are a team of 16 young girls who started off as a Young Enterprise team. After being regional winners, as well as winning an award for education innovation at the Global Youth Awards, they decided to pursue their business endeavours further. As a team they made a collection of three children's books intended to be entertaining, but also dealing with complex issues, which are prevalent in society today.
Entrepreneur: Sara Green Brodersen
Country of origin: Denmark

Canaree is a SaaS platform helping early-stage businesses understand and improve their future finances. The vision is to empower more pre-CFO start-ups to grow into great businesses. The USP is combining affordable advice and instant insights, removing the cost of using financial advisors and making it more helpful than Excel. Ultimately this will be how every company improves the viability of its business. The team combines deep knowledge of corporate finance and vast experience in building technology businesses.
Entrepreneur: Cecilia Mzayek
Country of origin: Malta

Most students have three difficulties when it comes to their studies: they find it difficult to stay focused, stay motivated and manage their time. TimeNinja is a mobile application that tackles those problems by developing a solution that uses: time boxing - by dividing their time into short bursts of distraction-free studying; gamification - by incorporating game elements such as points, ranks and badges to the app; artificial intelligence will be used to create personalised, dynamic study timetables that adapt to the student's individual study patterns.
Entrepreneur: Stéphanie Roland
Country of origin: Belgium

Today, up to 80% of cancer patients suffer from unaddressed and undiagnosed malnutrition, which endangers their quality of life, treatment follow-up and chances of remission. Saana aims to improve cancer patients' quality of life through actionable, tangible and personalised diet interventions. Saana are a team of cutting-edge researchers and experts who designed a unique personalised nutrition platform based on the latest science and a Machine Learning algorithm to enhance cancer patients' continuum of care and chances of remission.
Entrepreneur: Dominika Podolanová
Country of origin: Slovakia
WakiVaky is a young Slovak brand with an environmental and social approach. They specialise in textile waste upcycling. By making unique products they try to give a new life to excess and otherwise useless textile materials. WakiVaky work in an inter-generational team, giving freedom of creativity and self-realization to workless self-taught seamstresses. Every WakiVaky product has its own story and gains new value instead of ending up at a waste dump. They hope to change the production into a cycle, where they will be able to collect their products back from the circulation at the end of their useful life, and help them get recycled.
Find out more about their projects and about this year's award from JA Europe.