You are here
Estonian start-up wins Youth Entrepreneurship Award
eAgronom, an Estonian start-up, won the seventh AmCham EU Youth Entrepreneurship Award. The award, organised in collaboration with JA Europe, aims to showcase young people with entrepreneurial talent. It is a symbol of American companies' support for jobs, growth and innovation as well as their commitment to the prosperity of Europe.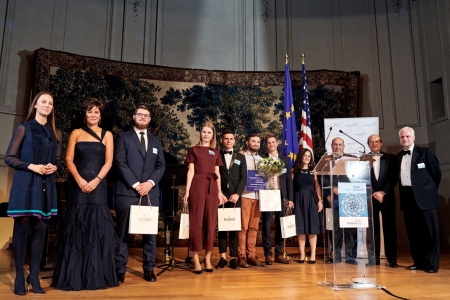 eAgronom is an AgTech start-up founded by farmers, financed by farmers and developed from farmer feedback. Founder Robin Saluoks launched the company because he could not find suitable software for his father's farm. He learnt how to code and made a first version himself. Today, hundreds of farmers use eAgronom in seven countries and trust the company with their data organisation and AI suggestions. At a time when European agriculture is facing unprecedented challenges, from production efficiency to sustainability and resilience, eAgronom was praised for its contribution to biodiversity and environmental sustainability.
The winner will receive a cash prize of €10,000 and will be offered several hours of mentorship over a 12-month period from a number of senior executives from AmCham EU's member companies.
The jury was comprised of the following members:
Daniel Calleja-Crespo, Director-General for Environment, European Commission
Susan Danger, CEO, AmCham EU
Joanna Gill, Deputy Bureau Chief, Euronews
Mark Libby, Deputy Chief of Mission, United States Mission to the EU
Eva Maydell, Member of the European Parliament
Lou Rivieccio, President of UPS Europe