You are here
A digital recovery plan for Europe: AmCham EU's 8th transatlantic digital economy conference
On Thursday, 1 October, AmCham EU hosted the eighth edition of its annual Transatlantic Digital Economy Conference. This year's conference focused on Europe's economic recovery from the COVID-19 emergency and the role of digital technologies therein.
The first virtual edition of the conference, sponsored by AmCham EU members Cisco, IBM and InterDigital, featured a keynote speech from Margrethe Vestager, Executive Vice-President for Europe Fit for a Digital Age and Competition, European Commission. After introductions from Maxime Bureau, Chairman, AmCham EU (3M), the Executive Vice-President spoke of the important role played by technologies in the EU's crisis response to date.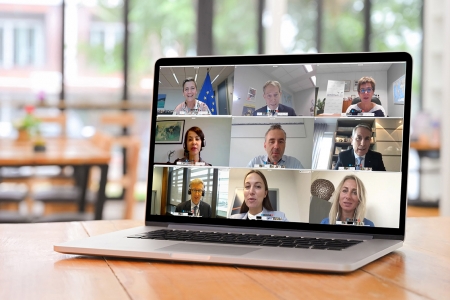 She also highlighted that the recovery plan provides the EU with an opportunity to rebuild the economy in a new direction, placing digital and green priorities at the heart of a growth strategy for Europe. She emphasised that as part of the historic €1.8 trillion stimulus package agreed with the Member States, the Commission has earmarked 20% of the Next Generation EU funding for developing Europe's digital capacities.
An open panel discussion followed Executive Vice-President Vestager's remarks. Dita Charanzovà, MEP, Vice-President, (RE,CZ), Thomas Jarzombek, Commissioner for the Digital Industry and Start-ups, Member of German Bundestag (CDU), Martin Jetter, Senior Vice-President and Chairman, IBM Europe, Eva Maydell, MEP (EPP, BG) and Anthony Whelan, Digital Adviser, Cabinet of President Ursula von der Leyen, European Commission participated in the panel on investing in Europe's digital recovery and promoting a digital ecosystem for the EU's global competitiveness, moderated by Claudia Selli, Member-at-Large, AmCham EU Board, and Chair of the Digital Economy Committee (AT&T).
The discussion oriented around the key themes of Europe's need to develop its 'strategic autonomy' in important digital infrastructure, while remaining open and outward-looking to trade and partnerships with other regions who espouse European values. Panellists agreed that Europe and the US remain each other's most important economic partners, and continue to be global standard-setters in digital technologies.