You are here
AmCham EU participates in Relay for Life 2019
Last weekend, an AmCham EU team participated in Relay for Life, an initiative to raise funds for the fight against cancer. The team brought together current and former colleagues, members, family and friends.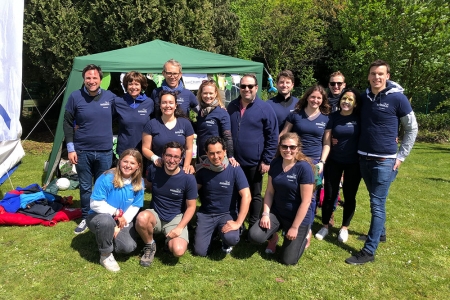 For 24 hours, team members took turns walking the track as a symbol of the constant battle of patients and their families. They braved sun, wind, rain, hail, cold and warm … but didn't stop. As you may know, this cause is close to the hearts of many of us in the office. We participated to honour the memory of our dear colleague Andreas Galanakis.
The event raised over 58 000 EUR for the Fondation contre le cancer. AmCham EU gathered over 5 000 EUR in donation pledges. Please still do consider donating for this important cause by visiting this page.
We are particularly grateful for the support of all individuals who supported our team on the weekend itself and/or with a donation. We would also like to recognise the support of TE Connectivity.
For any questions, please contact Thibaut L'Ortye (TLO@amchameu.eu).