You are here
AmCham EU hosts first virtual Annual General Meeting (AGM)
On Thursday, 25 June, AmCham EU held its first virtual Annual General Meeting, where members reviewed last year's accomplishments and discussed future plans for the organisation in 2020 and beyond. The AGM included reporting and voting on the annual accounts and budgets for 2019 and 2020.
The members have approved the 2019 annual accounts and 2020 annual budget, discharged the Board and auditors of their responsibilities for the accounting year 2019, and confirmed the mandate of current Board members. Changes to the AmCham EU Board were also announced, with Joris Pollet (Procter & Gamble) confirmed for his second mandate as Chair of Operations Group. Two dedicated members presented their candidacy for the position of Vice-Chair (lawyer/consultant): Kaarli Eichhorn (Jones Day) and Pablo Muñiz (Van Bael & Bellis). The nominations for Chair of Board of Directors were also launched at the AGM.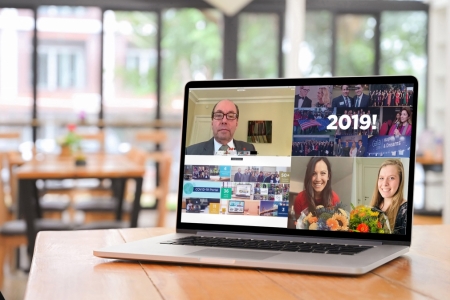 The internal session closed with the presentation of the 2020 Lizanne Scott Staff Excellence Award, which was awarded to Roberta Brumana, Senior External Relations Adviser and Wendy Lopes, Senior Graphic Design Specialist. The Lizanne Scott Staff Excellence Award recognises outstanding work by members of the AmCham EU staff.
For the second part of the AGM, AmCham EU had the honour of welcoming The Hon. Ambassador Ronald Gidwitz, Acting Representative of the US to the EU and US Ambassador to Belgium. Ambassador Gidwitz gave keynote remarks on the current EU-US relationship, the US response to the COVID-19 pandemic and his engagement with the EU institutions. He then participated in a fireside chat conversation moderated by Susan Danger, CEO, AmCham EU and replied to questions raised by AmCham EU members while also stressing the importance of the transatlantic relationship.