You are here
AmCham EU Chair, Zeger Vercouteren (J&J) discusses new role in interview
Zeger Vercouteren (J&J), Chair, AmCham EU discussed his thoughts and visions on his new role in an interview published on Friday, 13 November. He outlined that he foresees his tenure as an 'innovative' one, building 'a constructive business environment allowing our companies to continue growing in and with Europe', emphasising the need to maintain and strengthen the transatlantic relationship.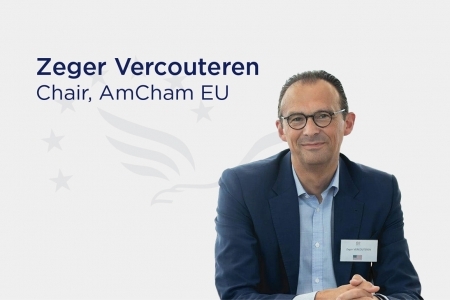 How does it feel to be the Chair of AmCham EU?
First and foremost, it is a privilege to have been selected - AmCham EU has built up a large membership base and a reputable brand image over many decades, and my company Johnson & Johnson has been there every step of the way. 'With great power, comes great responsibility,' as the saying goes – and there is a strong feeling of responsibility in taking up the chairmanship. I will be doing my utmost to further position AmCham EU as a trusted policy partner. I'm excited to get started!
Why did you decide to run for Chair?
As a company we have been a member of AmCham EU since it was established. Like many of AmCham EU members, we have been present in Europe for over 100 years, and we have established a large footprint over our time here. We feel completely part of the fabric of European society. However, we are becoming more and more cognisant of the growing resistance towards global companies, especially of non-European parentage. This is a demonstrable trend that seems to have accelerated in light of COVID-19. However, if you look at all our member companies, and the work they do to engage and integrate in the communities they serve, it is an enormous contribution. AmCham EU members are committed to inclusive and sustainable growth. Now more than ever, we need to build bridges with the EU and return the transatlantic relationship to its height.
My campaign was built on a vision of innovation. Innovation in how we position ourselves with regard to policy-making and society overall. Innovation in making AmCham EU even stronger, sharper and more agile in information-gathering and advocacy. Innovation to keep AmCham EU relevant to its members and providing high added value. Innovation to build a constructive business environment allowing our companies to continue growing in and with Europe.
How would you describe your leadership style?
My style is inclusive and non-conflictual, yet bold and with an appetite for continuous learning and prudent risk-taking. I want to bring people together, build consensus and stay focused on the bigger picture. An 'honest broker' approach will be needed, given that the pressure on American companies will be high, and that many policy files are so cross-cutting in nature. This will raise the stakes for a wide spectrum of members. I hope to deploy the trust that I have garnered over a number of years of experience in order to be able to take on the role of 'honest broker' with credibility.
I will aim to balance the urgency of business-critical needs for recovery, on one hand, with the expectations of our stakeholders that we play a more meaningful role in generating social value and building economic resilience for the long run, on the other hand.
What do you think will be the biggest challenge for AmCham EU in the coming 24 months?
Firstly, we absolutely need to keep the transatlantic relationship going. If the relationship breaks down and we find ourselves in the midst of a trade war and tit-for-tat tariff hikes, that is ultimately bad for businesses and consumers and citizens alike.
Secondly, we are seeing a trend of turning away from globalism on both sides of the Atlantic. The COVID-19 crisis has underscored the indispensable nature of global supply chains for the international economy. With our global supply chains, we were able to adapt to the crisis as it flared up in different regions of the world, in order to secure supplies to where they were needed. However, when countries moved to restrict imports and exports, that is when the problems arose. Moving towards protectionism to tackle a global challenge is the wrong approach.
Third, the European Commission has brought a number of very ambitious and cross-cutting policy files onto the agenda. We must be able to integrate the very different interests of our individual members, in order to find points of convergence. This will be seen as a strength in the eyes of policymakers, who are constantly balancing the different interests at play.
What are you most looking forward to about the role?
I am really looking forward to working with both the members and the staff. I have always been very impressed with how engaged the members are. The staff are also very dynamic, sharp and results-oriented. This gives me a lot of energy. The scope of AmCham EU's agenda is very broad – we cover issues across the board. While Johnson & Johnson is active in many of these issues, I am looking forward to tackling issues beyond my company's wheelhouse and I think I can learn a lot from the experience. I'm also looking forward to working with Susan, who is well-known as AmCham EU's CEO, and who has led the organisation to where it is today. The board as well is a great mix of backgrounds and personalities.