You are here
AmCham EU and US Chamber of Commerce launch Transatlantic Economy 2020 report
On Thursday, 26 March 2020, the American Chamber of Commerce to the EU (AmCham EU) and the US Chamber of Commerce hosted an online event to mark the launch of our Transatlantic Economy 2020 report. To watch the event again, click here.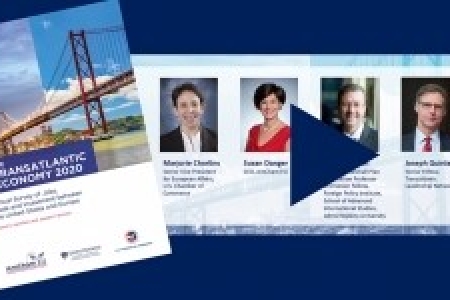 The launch featured a presentation of the report by its authors Dan Hamilton, Austrian Marshall Plan Foundation Professor and Senior Fellow, Foreign Policy Institute, School of Advanced International Studies, Johns Hopkins University and Joseph Quinlan, Senior Fellow, Transatlantic Leadership Network.
Susan Danger, CEO, AmCham EU, emphasised the importance of transatlantic cooperation and bold government action to address the ongoing COVID-19 crisis and its ripple effects on the economy. Marjorie Chorlins, Senior Vice President for European Affairs, U.S. Chamber of Commerce, stressed that both the EU and the US should work together to get through longstanding trade irritants. Most importantly, she called on both sides to demonstrate common leadership.
The authors outlined that we are living in unprecedented times for the global economy. They emphasised that at times like these, the EU-US partnership becomes even more important. They went on to demonstrate that while trade deficits in goods tend to get a lot of media scrutiny, it is investment flows that reveal the true level of interconnectedness of economies. In the case of the transatlantic economy, investment in each other's markets is the largest in the world, dwarfing investments by China into the EU and the US.
A question and answer session followed the presentation, touching upon the impact of COVID-19 for the future of the transatlantic relationship; the US rescue measures; opportunities to advance the EU-US trade agenda; and the impact of Brexit. It was moderated by Thibaut L'Ortye, Associate Director of Public Affairs, AmCham EU.