You are here
5th Agro-Food Risk roundtable
On Monday, 8 April, AmCham EU hosted the fifth edition of the Agro-food Risk Roundtable. The event was organised in collaboration with the US Department of Agriculture. Gathering over 60 participants from governments, industry and academics, the roundtable focused on stimulating discussion and sharing of best practices regarding different models of risk communication in the food and agriculture sector on both sides of the Atlantic.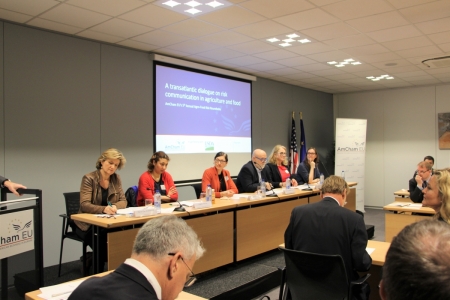 The first panel revolved around the principles and impact of effective risk communication and on the challenges that risk assessors and managers face when communicating on food. The participants exchanged views on how to communicate effectively in order to increase trust between consumers, producers, regulators and industry.
The second panel looked at best practices and explored means to better identify key principles for evidence-based risk communication and how the EU and the US seek to gain public trust and explain science. This led to a fruitful exchange on how risk assessors and risk managers can best coordinate efforts on reaching target audiences and communicate on risk effectively.
This event was the fifth in a series of roundtables organised on risk analysis in the agro-food sector. All partners of the event recognised the strong value of these discussions, which also contribute to strengthening the transatlantic regulatory dialogue. Participants expressed a strong interest to reconvene next year.
If you have questions about the event or AmCham EU's work on agro-food issues, please contact Nadia Allen (nal@amchameu.eu).